Hey frivolous people! I'm Russell, or Russ Buss if you prefer. It's my first post on the blog so, I figured I'd give you some detailed history on the e30 above, As she has been through a lot.
It was the summer of 2004 and I had a HPDE at Road Atlanta fast approaching. The only problem was the e30 that I was planning on using got t-boned 9 days before the event. At this point I couldn't get a refund, so I set out on my journey to find a replacement.
At an autocross I bumped into a guy(Dan) while working the front gate and our conversation stumbled across the topic of me looking for an e30 shell. He said he had one that had been in his basement for 3 years waiting to become his next project car. I asked if it was for sale, and he apprehensively said "sure I suppose". I asked him how much he wanted, and being a 17 year old kid at the time I could tell he didn't take me seriously, but I reassured him I had money and needed a car within the week for the HPDE at Road Atlanta. He then began to backpedal a bit, going into how it was a good chassis and he really wanted to make it a race car at some point. Right about the time he said, "I'm not sure if I want to sell it quite yet" his wife grabbed him and drug him around the other side of their pickup. A few moments later he came back around the truck, and I knew at that moment I was about to have a new e30.
He told me that if I put a race motor in his current race-car e30 then I could have the shell for $1. Yes $1. I quickly agreed sight unseen and arranged to borrow a truck and trailer. We arrived in McDonough to pick the car up the next day. Dave sweetened the deal by including a full manifold back 1 piece exhaust. Nevertheless, the basement had taken its toll on the poor car. This is what I saw when the basement door opened.
The initial view was a little disappointing.

But it was a straight chassis for a dollar and a days work.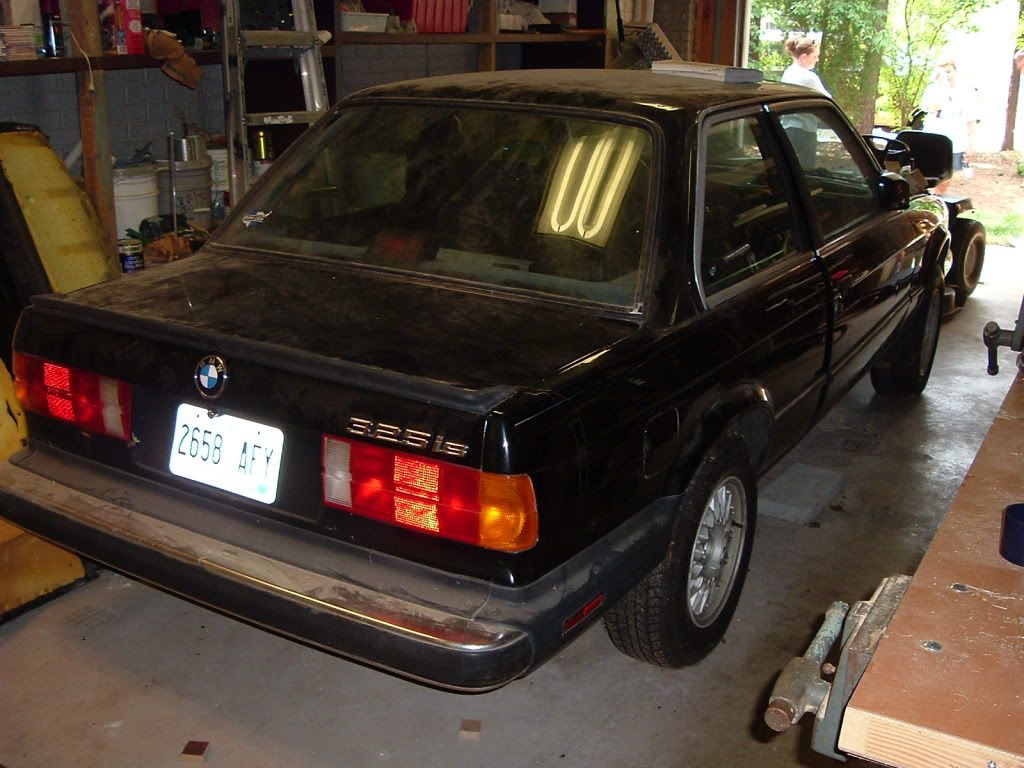 The interior was atrocious. It was covered with mildew and cat hair. The smell that came wafting out as I opened the door was so awful, it was nearly a deal breaker. Yes, this is supposed to be black.
Once we got it loaded up and back to the shop, I took a closer look at the car, and the uneasy feeling in my stomach became much more apparent. I had a week to turn this into a track car.
The plan was to gut the moldy interior and swap all necessary parts from my old e30 onto this one and run it as basic as possible. Just a track rat to get me through. I swapped springs, shocks, brakes, motor, transmission, drive shaft, and drivers seat into the car and it was ready to go. Unfortunately there was an electrical issue that arose the day before the event that was preventing the fuel pump from operating. So all the work was in vein... Or so I thought...
I ended up borrowing my girlfriends caged e30 for the event with the plans of getting back and figuring out the electrical problem in mine. The first day after the HPDE after much diagnosis I found a hidden fusible link that had blown. Replaced it with a 50amp stereo fuse and she fired up like new. So, I figured I had a decent daily driver until I found a nicer e30. But if I were going to do anything with this car I'd have to do something about the smell. First to be tackled was the interior. Cleaned until my hands were falling off, re-sprayed the interior, and swapped in some tan. I kept working on it here and there in school, and I slowly began to see real potential in the car.